Does this scare you?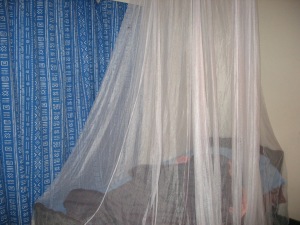 I was making my bed, tucking the sheets in and moving the mosquito net around… and then I almost fainted. Holy crap! *shiver* It's probably harmless, but it's SO much scarier than the tiny spiders, ants, etc that are always running, flying, and crawling around here. Even as I type these sentences I've had to brush several bugs off me. One of them came dive-bombing from a missed attempt to reach "heaven" (the light bulb above me).
I heard in Venezuela the spiders are as big as your head. Well when I whacked this one with my panga (farming knife/sword thing) it hit the wall with a THUD! Jesus Christ… this is Africa.
I'm alive and well, and I even slept in this morning. I made one big cinnamon pancake with banana slices wedged in there… It's no Denny's but I'll take it.
Alan