If you like food, history, or architecture, you need to go to Istanbul. With the introduction of Turkey's new e-Visa program in 2013 and excellent metro connections from the airport, it has never been easier to explore Istanbul as a tourist. You can even see quite a lot during a 7-hour layover through Istanbul.
Now that I think about it, you should probably be ashamed if you haven't been to Istanbul yet!
Constantinople
After over 1,000 years as the capital of the Roman, Byzantine, and Ottoman empires, modern-day Istanbul is a cultural melting pot with influences from all over Europe, the Mediterranean, and Asia — perhaps you've heard of Constantinople, established in 324 AD? Nothing is a more obvious reminder of this rich legacy than the dozens of minarets spiking the skyline; beautiful mosques in the unique Turkish style are everywhere you look!
The Hagia Sophia (Ayasofya in Turkish), for example, is nearly as old as Istanbul itself, and has existed as an Eastern Orthodox cathedral, then as a Roman Catholic cathedral, and finally as a mosque. As you can see, the building looks stunning in the afternoon light of Istanbul's summer: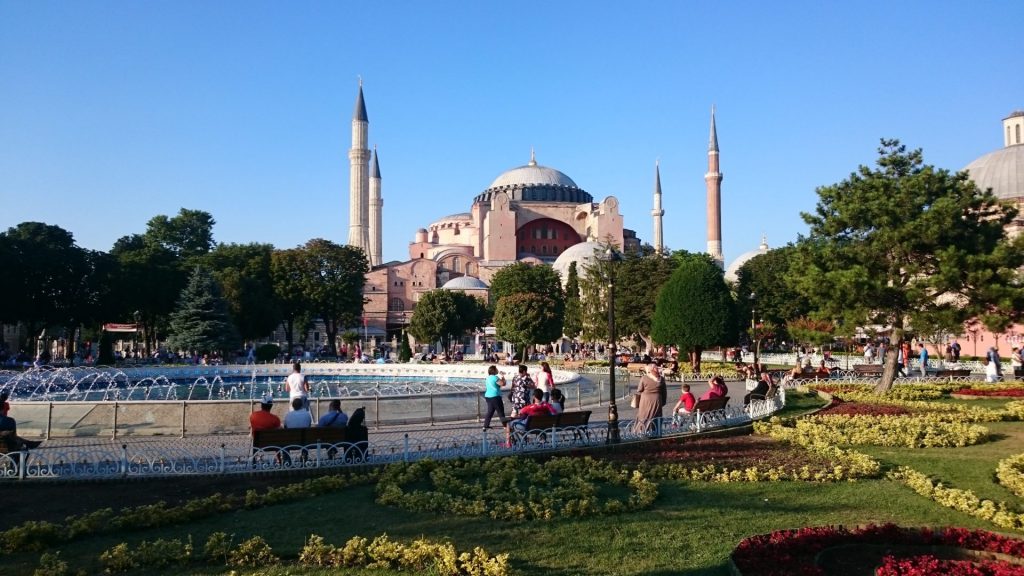 The Hagia Sophia is now a museum, and shares a large complex with a beautiful water fountain, tulip garden, and several other relics, including the Sultan Ahmet Mosque (aka The Blue Mosque).
No trip to Istanbul is complete without visiting these two sites! Indeed, I always walk by and stand in awe of them for at least a few minutes every time I'm passing through the city. If you have more time you can also walk around down behind the Blue Mosque where there are some cute streets with shops and restaurants.
Tidbits
Because there's no way I could describe everything else there is to see, eat, and do in great detail, here's a list of a few tidbits I thought would be helpful:
Turkish Lira — honestly, just do it at the airport. Otherwise, you'll kill yourself trying to figure out which place gives you the most money after the market rate and the commission. I changed $100 in town and got 265 Lira, then changed $100 later at the airport and got 255 Lira. That's a difference of three short metro rides, or one shawarma. Your choice.
Metro from airport to downtown — just follow the big "M" signs as you exit the airport and get on the train that says it is going to "Yenikapi" (it's the only one, as it's the end of the red line). Get off after about 20 minutes at "Aksaray", exit the metro station, and walk two blocks to get to the blue line metro at "Laleli-Üniversite" that goes to the old part of town, towards "Sultan Ahmet" and "Kabataş."
Turkish bath aka hamam — pretty sweet, you get to lay on a hot marble stone while some Turkish guy scrubs you with a big, rough sponge. It's more fun than it sounds! Not all venues are created equal, and some can be weird. I had a good experience at on by the Burnt Column metro stop on the blue line, and a bad experience at one near Sultan Ahmet.
Eat baklava — they're all good, but I'd recommend anything with pistachios, as it's kinda a thing in Turkey. They all go well with Turkish coffee (black, no sugar, of course).
Dotted and dotless I — this is pretty awesome. The Turkish alphabet has both dotted and dotless I letters. You can see the dotted one in İstanbul, for example. It's just like in the Latin script, but they dot the I even when it's capital. :)
A few more pictures from my last visit:
The Next Adventure
This last time I visited Istanbul I noticed a sign for a shop advertising bus tickets to Greece, Bulgaria, Iran, Georgia, and Albania. Can you imagine?! When was the last time you opened up your atlas and looked at those parts of the world? I can only imagine the food, adventures, and history that await… at this rate East Africa seems boring. :)
*sigh*