I live next to nowhere in Kenya, so Internet access is pretty limited. I am able to access it at work, but it's slow and only available during the day. Luckily Safaricom, one of the local cell phone companies, just rolled out 3G technology across Kenya. My cell phone isn't very fancy so I picked up the USB modem instead. When the Safaricom employee asked if I had brought my laptop for them to configure I replied, "Um… no. I'll do it myself…" So this is the culmination of my ensuing research.

Using a Huawei e220 With Safaricom Under Linux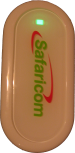 The Huawei e220 is a USB HSDPA modem capable of some crazy speeds like 7.2 megabits per second, though Safaricom advertises the max on its network as being around 3.6. If you look around on the internet you'll find a dearth of information about using the Huawei e220 under Linux, as lots of mobile phone companies all over the world have been providing these units for a few years. The software required to use these under Linux has changed a lot of the years, and it's actually pretty easy to get working once you piece together the information from several blogs, forums, and man pages. If you also live in Kenya, use Linux, and have one of these modems, keep reading.
Requirements
:
-Linux Kernel 2.6.20 or higher (I've used 2.6.24.x and the 2.6.25 prereleases)
–wvdial (which requires wvstreams from the same website)
-pppd

Make sure these are all installed and then keep reading!
Enable USB Serial Support in the Kernel
If you use Ubuntu or Fedora or whatever you may not have to do this step, but it's here for reference. I use Zenwalk Linux and compile my own custom kernels, so I had to enable support for USB serial devices in the kernel's menuconfig:
Device Drivers —>
[*] USB support —>
USB Serial Converter support —>
<M> USB Serial Converter support
[*] USB Generic Serial Driver
<M> USB driver for GSM and CDMA modems
The "USB Generic Serial Driver" will be compiled as a module and will be called "usbserial" and the "USB Driver for GSM and CDMA modems" driver will be named "option". Both of these drivers work with the e220, but it appears as if the option is the more appropriate one (the kernel's drivers/usb/serial/option.c has some Huawei-specific notes whereas the generic driver is just generic). I've read of some speed differences between the two, but that may be only in Europe where you actually see speeds in excess of 10 or 30K/sec! After you compile your kernel with the new modules you should load the "option" module.
sudo modprobe option
Plug in the Modem!
In addition to three serial ports, the Huawei e220 also has a small memory containing some Safaricom software for Windows, so you may see some usb-storage notes in the system logs, but just ignore those. Look in the system log for some notes like below:
option 2-1:1.0: GSM modem (1-port) converter detected
usb 2-1: GSM modem (1-port) converter now attached to ttyUSB0
usb-storage: probe of 2-1:1.1 failed with error -5
option 2-1:1.1: GSM modem (1-port) converter detected
usb 2-1: GSM modem (1-port) converter now attached to ttyUSB1
If you don't see anything about TTYs that's ok, I usually don't see them either! For some reason the e220 has a problem going into serial mode, so the serial ports do not show up until you prod the device a bit. If the modem is plugged in when the computer is boots up there seems to be no problem, but if you sleep the computer or unplug/replug the modem the only parts that show up are the partitions containing the Safaricom software.

Show Me Your Ports!
Some guy wrote a tool that switches the e220 to the correct mode for the serial ports to appear. You can download it
here
or
here
. Once it's downloaded, compile it, run it, and then look at the system log for the TTYs!
[aorth@kenya: ~]$ cc huaweiAktBbo.c -lusb -o e220_fixer
[aorth@kenya: ~]$ ./e220_fixer
4 set feature request returned 0
Prepnute-OK, Mas ttyUSB0 ttyUSB1 (cez usbserial vendor=0x12d1 product=0x1003)
pozri /proc/bus/usb/devices
If the system log says the TTYs have been connected, you now need to figure out where the device nodes were created. We only need the first one, and on my system it is located at /dev/tts/USB0. I believe the default in recent kernels/udev versions is /dev/tts/USB0 or maybe /dev/ttyUSB0.

Creating Your wvdial.conf
Create a file to hold your wvdial configuration. When I compiled wvdial I told it to look for configuration files in /etc, and my /etc/wvdial.conf contains the following lines:
[Dialer Defaults]
Phone = *99#
Username = doesnt
Password = matter
Stupid Mode = 1
Dial Command = ATDT

[Dialer huawei]
Modem = /dev/tts/USB0
Baud = 3600000
Init2 = ATZ
Init3 = ATQ0 V1 E1 S0=0 &C1 &D2 +FCLASS=0
ISDN = 0
Modem Type = Analog Modem
Init4 = AT+CGDCONT=1,"IP","SAFARICOM"
If you haven't tinkered with your SIM card yet you probably have to enter a PIN for the modem to be able to access the network. I disabled the PIN request by putting my modem's SIM card in my phone and going to the Security settings. Otherwise, you can just enter your PIN manually and then dial the "huawei" section of your configuration:
[aorth@kenya: ~]$ sudo echo "AT+CPIN=xxxx" > /dev/tts/USB0
[aorth@kenya: ~]$ sudo wvdial huawei
After you dial you should see wvdial run through your configuration and then it will call Safaricom using pppd. It should hopefully look something like this:
CONNECT
–> Carrier detected. Starting PPP immediately.
–> Starting pppd at Thu Mar 27 08:29:45 2008
–> Pid of pppd: 4081
–> pppd: è7ö·Ðx[06][08]HÁ[06][08]
–> Using interface ppp0
…
…
–> local IP address 172.27.138.45
–> pppd: è7ö·Ðx[06][08]HÁ[06][08]
–> remote IP address 10.64.64.64
–> pppd: è7ö·Ðx[06][08]HÁ[06][08]
–> primary DNS address 10.11.12.13
–> pppd: è7ö·Ðx[06][08]HÁ[06][08]
–> secondary DNS address 10.11.12.14
–> pppd: è7ö·Ðx[06][08]HÁ[06][08]
It's a bit ugly, but you should be dancing with joy when you see wvdial stop spitting crap out after the DNS servers! Take the two DNS server addresses and paste them into /etc/resolv.conf, commenting any others out. PPPd puts these DNS servers into /etc/ppp/resolv.conf but they didn't won't work there for me.
Hopefully you are able to browse the internet now… leave a comment if you need help!

Other Tools
Links