Ok, so this trip wasn't as cheap as when we went to Tanzania a few months ago, but, to be fair, we really outdid ourselves this time. We did the usual street food taste tests and shady boda boda rides, but we also added a few new things…
Rafting the Nile
The highlight of this trip was whitewater rafting down the Nile in Jinja. I'm not entirely sure how we came up with this hair-brain scheme, but Raymond and I decided that it would be the perfect adventure for the four-day weekend we were given for Kenya's Jamhuri (Independence) day on December 12 – 15.
After looking around at a few Nile rafting websites we settled on River Explorers due to their one free night of hostel accommodation. We went for a full day of rafting, which included several class 3, 4, and 5 rapids. In one word, it was epic!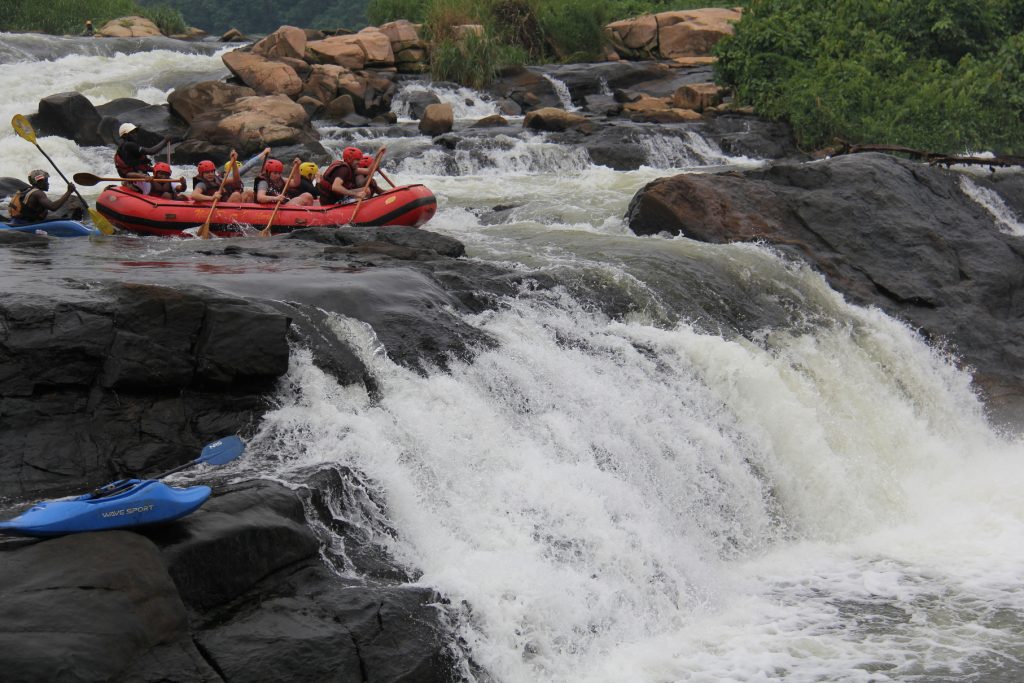 It's amazing how the rapids can humble you; we went in very confident and with lots of (fake) bravado and laughs, but that all stopped after falling out of the raft and getting tossed in the waves again and again… and again. By the end we were glad to be done. ;)
Now that it's been a few weeks since we survived, I can say I'd do it again in a heartbeat!
Uganda Linux Users Group
In other news, we met up with the Uganda Linux Users Group and I gave a talk about ILRI's research-computing infrastructure.
The meeting was actually a LAN party (hosted by Gamers Nights), but the audience was eager to learn about the open-source technology that powers ILRI's research infrastructure, and they asked some good questions. If nothing else, the meeting was the beginning of Kenya-Uganda Linux Users Group communication!
Not So Cheap
After an action packed weekend we didn't have time to sit on a bus for fourteen hours, so we hopped on a rather expensive flight back to Nairobi (18,000 KES, ~$210). Oh well! We had a blast.