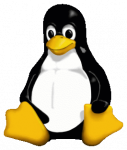 I'm giving a seminar on the Linux operating system at ILRI on Saturday, April 17th. The audience is around thirty aspiring bioinformaticians from the Regional Students Group of East Africa. Most of the participants are from Kenya, but we've had confirmations from students in Uganda and Cameroon as well. I haven't taught since I left Tala and Holy Rosary College about eight months ago, but I like talking and I like Linux, so it should be a good day!
I've been pretty busy at work lately, so I haven't had so much time to prepare my notes. The target audience is beginners, but the talk is all day and should be both hands-on and intensive. Not wanting to let anyone down, I decided to leave work early today to work on my notes from my house, only to find that there was no electricity in Westlands. Fantastic!
I have walked to the Sarit Centre in Westlands and am now working away to the sweet taste of an iced coffee inside Java House. I might head over to Art Cafe in the Westgate mall just to change the scenery a bit. I still have about 50% of my slides left… oh no!