Tumefika salama lakini tumechoka, tumekuwa chafu, na hatujala all day! Dar Es Salaam ilikuwa poa kwasababu tulitembea kila mahali mpaka tulikuwa wenyeji wa huko. Leo ni mwaka mpya halafu tunajienjoy kwa chumba na maembe na maji safi ya kunywa.
We have arrived safely but we are tired, dirty, and we haven't eaten all day! Dar es Salaam was cool because we walked everywhere until we became locals of that place! Today is New Year's Eve so we are enjoying ourselves in our hotel room with mangos and clean drinking water.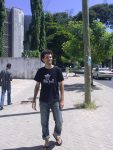 That's my bit of prose in Swahili. It's all most people speak in Tanzania, so I had a lot of practice. I guess now I speak Swahili at the level of like a two-year-old kid (I think my vocabulary needs to improve a bit). I'm glad to be back in Kenya, though, because now I can use English and just the fun parts of Swahili: sheng! We spent our last day in Dar Es Salaam walking around the docks investigating smelly fish and eating fresh mangos by the bay. We happened upon a really nice hotel and decided to go in for a cup of coffee and a slice of mud pie. Marble floors, air conditioning, and everything. Very relaxing!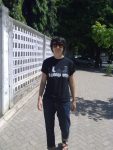 We treated ourselves to a nice dinner for our first night in Mombasa. I know a few nice places around and I'm kinda sick of being on the road so I'll probably indulge a bit more. I'm talkin' coffee and brownies, people! We'll probably stay here another day or two before we head up the coast to Watamu and Malindi in search of smaller towns and fresh waffle cones full of sweet, sweet, Italian gelato!
On a side note, Mombasa doesn't seem to be as hot as Dar Es Salaam, despite being more north towards the equator. Whatever the reason, it makes everything much easier — Dar Es Salaam was almost unbearable. For example, from our two days of wandering around the city for hours on end I've got a gnarly farmer tan on my neck that will take me years to get rid of.