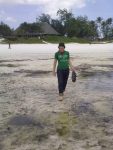 We've reached Watamu! I'm not sure if it actually means "sweet people" or not, but in Swahili tamu means sweet, and the plural form of people is "wa" — like mkenya and wakenya for Kenyan/Kenyans.
I've been here before with Sara and some other volunteers. It's a great little touristy beach getaway with lots of Italians. You can tell there's an Italian influence because the tuk-tuks say "Piaggio", the kids shout, "Ciao!", and there is a gelato shop on every corner. I've been longing for gelato ever since we left Nairobi so we plan on eating it at least twice a day. We've also been eating a lot of mangos (there is a great apple–mango hybrid that is really delicious and cheap). Randi swore left and right that she didn't like fresh mango but I guess they don't make 'em like this in the US. Karibu Kenya (welcome to Kenya)!
Here are a few pictures from Fort Jesus in Mombasa and the beach in Watamu:
We've decided we'll kick it here for a few days before heading back to Nairobi. Just about thirty minutes up the coast is the town of Malindi, where there are more mangos and gelato waiting to be eaten.