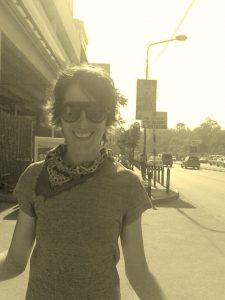 Randi has taken to the streets of Nairobi with vigor. From the moment she arrived she showed prowess at navigating Nairobi's busy streets, jumping out of moving matatus, and eating ugali (very thick corn flour porridge, a staple in Kenya) and vegetables with her hands. After we picked her up at the airport we stopped in town to get some pizzas. As we watched Randi weave in and out of traffic in front of us, one of my friends asked me if Randi had ever been to Africa before — she was surprised when I told her, "No!" In due time Randi will surely kuwa mjuaji (to be someone who knows… like to know the streets)!
In the past ten days we've been all over Nairobi and surrounding areas in search of new experiences. For instance, I/we have been learning new sheng (Swahili slang), like ndula (shoes), and keja (home). I'm not sure ameshika zote (she has caught them) yet, but I keep teaching her a few new words every day. As the Swahili proverb says, "Haba na haba hujaza kibaba" (little by little fills the bucket). Some of our more exciting exploits include:
Eating nyama choma (roasted meat) with some friends
Hangin' out in Eastleigh, a prominently Somali area of Nairobi
Visiting Tala, where I lived for almost two years
Eating fried fish with ugali at Mama Oliech's restaurant in Dagoretti Corner
Bragging about being a twin at ILRI
Checkin' out the Rift Valley on the way to Naivasha
Riding crazy matatus to Eastlands, where hewa ni lazima ("hewa" is air in Swahili, but in Sheng it refers to loud music)
And that's not even including my hair cut (with post-cut modifications by Randi), finding and securing a new apartment (effective January 1st, 2010), window shopping for fridges and mattresses for said apartment, buying for postcards for better-late-than-never Christmas greetings, and organizing all the stuff required to get a work permit (thanks ILRI and VSO!).
It makes me tired just thinking about it. Adios!