I've been jotting down notes on my phone as I walk around Thailand. I don't have time to write long posts, so here's a list of observations, activities, etc.
Catch Up on Sleep
Sleep in late, still tired from the train ride yesterday.
Lunch
Lunch of green curry and Thai iced tea right by the boardwalk, nice and breezy and delicious food, 150 baht.
Dogs Fishing
Walk on the beach, see some dogs pretty far out in the shallow water, he's wagging his tail and pouncing, must be looking for fish! Kinda cute. I wonder if they ever catch any.
Addicted to Thai iced tea
Another Thai iced tea, this stuff is delicious. Probably because of the condensed milk.
Boat Lag?
Have a pounding headache, so back to hotel to take a nap, end up watching synchronized swimming on TV in the hotel. Amazingly difficult sport! But also amazingly pointless…
When in Rome, Do as the Romans Do!
Got another massage. When in Rome, right?!
Light Dinner
Had some noodle soup with pork. Dressed it up with chilly powder and that vinegar stuff that's always on the table.
Street Festival
There was some kind of street festival/bazaar with food, music, and all sorts of other vendors selling stuff. One peculiar thing was a stall selling rabbits, mice and squirrels in cages. There was even a mom squirrel on a leash… Hmm.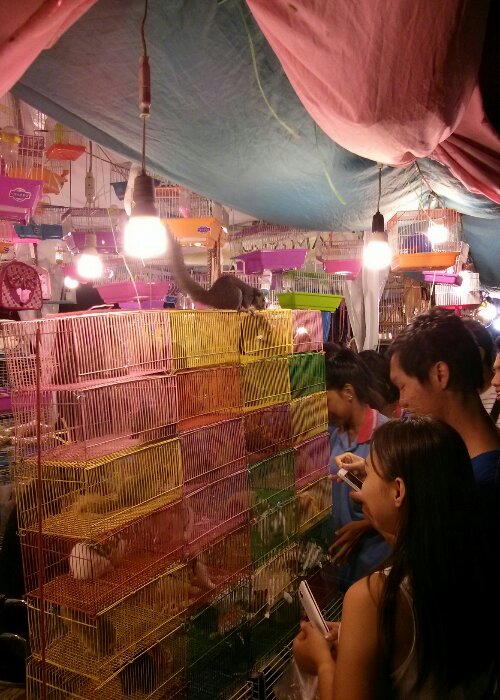 I <3 Street Food
I decided the street food looked too good so I had some chicken satay on a stick (20 baht) and then some freshly fried pad thai. I'm eating lots of meat here, though, gotta tone it down a bit! Tofu isn't as popular as I had thought…