I've been jotting down notes on my phone as I walk around Thailand. I don't have time to write long posts, so here's a list of observations, activities, etc.
Hip Destination
Still in Bangkok, in the heart of the "Bangkok for dummies" (Khaosan Road)… so many German, Spanish, and other European tourists. Thailand is a super hip destination apparently, I just came here because the plane ticket was cheap and I love Thai food! Anyways, it reminds me of any other tropical destination for young people, like Goa in India or Rosarito in Mexico — everyone selling the same trinkets, young people getting drunk and being stupid, great street food, etc.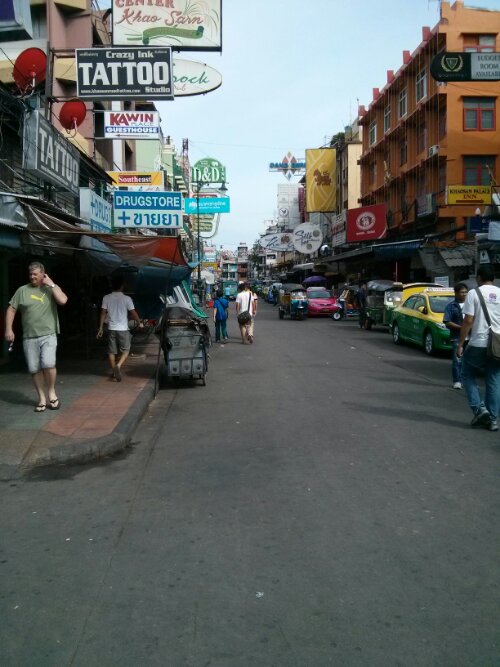 Who Buys That Crap?
Having seen the types who come here — partiers and hippies — I'm wondering why there are so many silver shops and tailor-made suit shops. Who is buying that stuff?
Electricity Woes
I found out last night that the electric socket in my room only works if the light is on, have to leave the lights on to charge my phone. Also, the USB wall adapter I bought on the street sucks, so it charges like 10% per hour.
I went to Starbucks for coffee and to read my book, trying basically to charge my phone but I only manage to get 10% while I read 50 pages! Decide to just leave my phone in the hotel as I walked around today.
Big Buddhas
Wander around, see the Golden Mountain and Wat Suthat temple, etc. The colors and architecture are beautiful. The temple had a bronze Buddha which was like 60 feet high. Lots of people praying in front of it, reading from books.
Rant About Buddhism From a Staunch Atheist
I dunno why white people love Buddhism so much, maybe because they've never seen it in its element. There is lots of ritual, superstition, etc. I think it was Sam Harris who said white people think that the whole of Asia is one big Buddhist temple, but they should go see it in Vietnam and Thailand where it controls people's lives.
Street Food
Ate some more noodles, had a nice iced tea ("Thai" iced tea perhaps?). 60 Baht. Ate with chopsticks, even though I always thought Thai people don't use chopsticks.
Massage!
Got a foot massage, 30 minutes for 120 Baht. Feels nice after walking 1000km today! Still not sure what the difference between a "Thai" massage and a "Swedish" massage is.
Friend of a Friend
Met a friend of a friend for dinner (actually, daughter of a boss, but who's taking notes?). Panang curry again!