Using mobile broadband with Linux in Kenya just keeps getting easier and easier. The days of manually editing text files and dialing with wvdial on the command line seem to be over. For some time now—in Ubuntu at least—it's been sufficient enough to just plug in your modem or phone then setup your "mobile broadband connection" from the network menu. In related news, as of Ubuntu 10.10 "Maverick Meerkat" you can finally connect easily to Orange Internet: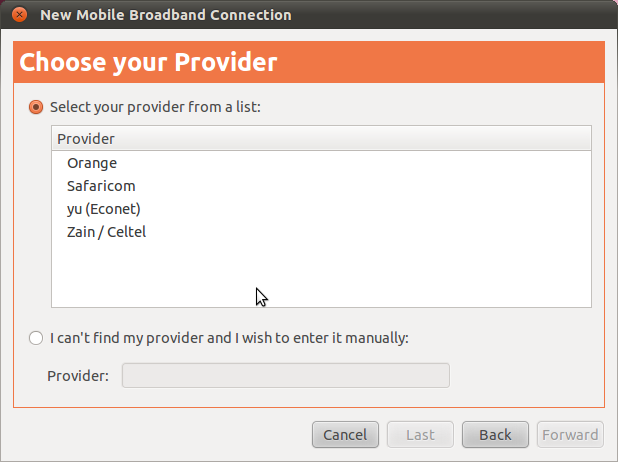 I noticed the bug report responsible for the fix last week after I had unlocked my Safaricom-branded Huawei modem and was searching the net for settings to use with the Orange network. Once you find the APN it's trivial to add the appropriate settings manually, but it's great to see that plug-and-play connectivity for all four major Kenyan providers has come to Ubuntu. These days I just don't have the time to fiddle around in the command line when I just want to check my e-mail from home.
In other news, you know those Compaq/HP Mini 110c netbooks which are so popular in Kenya? Yeah, the ones with the proprietary Broadcom wireless chipset (BCM4312) which is a pain in the ass to get working in Linux? It now takes considerably less black magic to get those things working if you're using the latest Ubuntu.
For instance, the ssb and b43 modules still need to be blacklisted, but the newer kernel (version 2.6.35) plus a slightly updated bcmwl-kernel-source package in Maverick Meerkat seem to help with problems people were having with that netbook not booting in certain situations.