I saw this Swahili kanga on Google the other day, a celebration of the East African Community: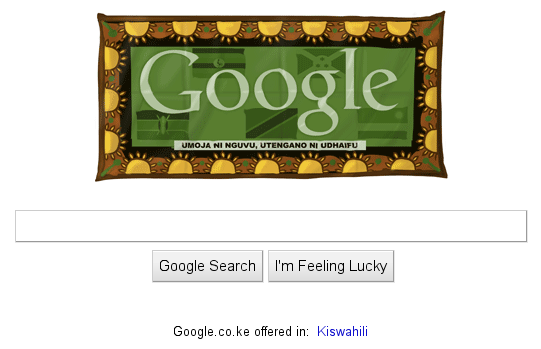 The phrase is some deep Tanzanian Swahili, but I cracked the code with a little dictionary magic: unity is strength, separation is weakness.
I asked one of my buddies about it and he gave me a bit of a disgusted look, then explained that they used to chant this as school children. I guess the atmosphere was much different thirty years ago; several African states still hadn't gotten their independence, and just down South in Tanzania, President Julius Nyerere was unifying his people around a common language (Swahili), shunning English as "the language of the imperialists."
A kanga, by the way, is an extremely common garment in East Africa. I have personally seen them all over Kenya, Tanzania, Uganda, and even Rwanda. They usually have Swahili proverbs written on them, so it's the perfect icon of East African unity in so many ways — Google really did their homework.
Anyways, according to Reuters, the goal of the East African Community is "to have a common currency in 2012 and turn into a political federation in 2015." Good luck, guys!