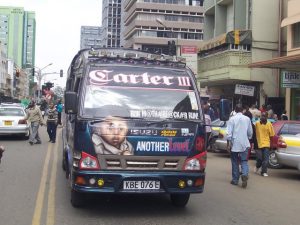 Matatus are the main mode of public transport in Kenya. They're decorated inside and out with pictures, TVs, satellites, etc. The most creative ones are obviously in Nairobi. I always laugh when I see matatus in town because most of them have funny things written on the windshield or body. For instance, they write how many passengers they usually carry. Some creative ones on the top of my head:
14 Passengers (the normal one)
14 Hustlers
14 Blacks (ahh, am I allowed in?)
Watu 14 (14 "people")
14 Warembo (14 "beauties")
14 Wateja (14 "customers")
In addition to some sort of indication of where they're going (Westlands, Tala, Town, etc), matatus given names or slogans which are printed on the front windshield. Given the infiltration of American rap culture in Kenya, most nicknames adhere to a common theme: things related to hustling, rappers, money, etc. Every so often, though, you'll see some funny name which catches your eye, or sometimes leaves you scratching your head. There are a bunch of mats in town which are precariously named after computer-related concepts. I don't know what their inspiration is, but sometimes I just laugh:
Internet
Anti-virus
Spyware
Kaspersky (incidentally, a brand of anti-virus software)
On a related funny note, there is a matatu in Tala which has written that it is going to New York City. Maybe they used Google Maps for directions… (note: it tells you to swim across the Atlantic Ocean)?