I can't shake the feeling that Zanzibar felt like a combination of Lamu — Kenya's small island with winding stone alleyways, coconut-infused Swahili dishes, etc — and the Kenyan coastal towns of Mombasa, Watamu, and Malindi.
Here are some of the highlights from my visit…
Fine Dining in Paje
A clever entrepreneur built a gourmet restaurant on top of a rock a few meters off the beach in the small Southeast town of Paje. It's (obviously) called The Rock and the view is absolutely stunning during the day. Blue sky, blue water, sand bars, coastline… perfect.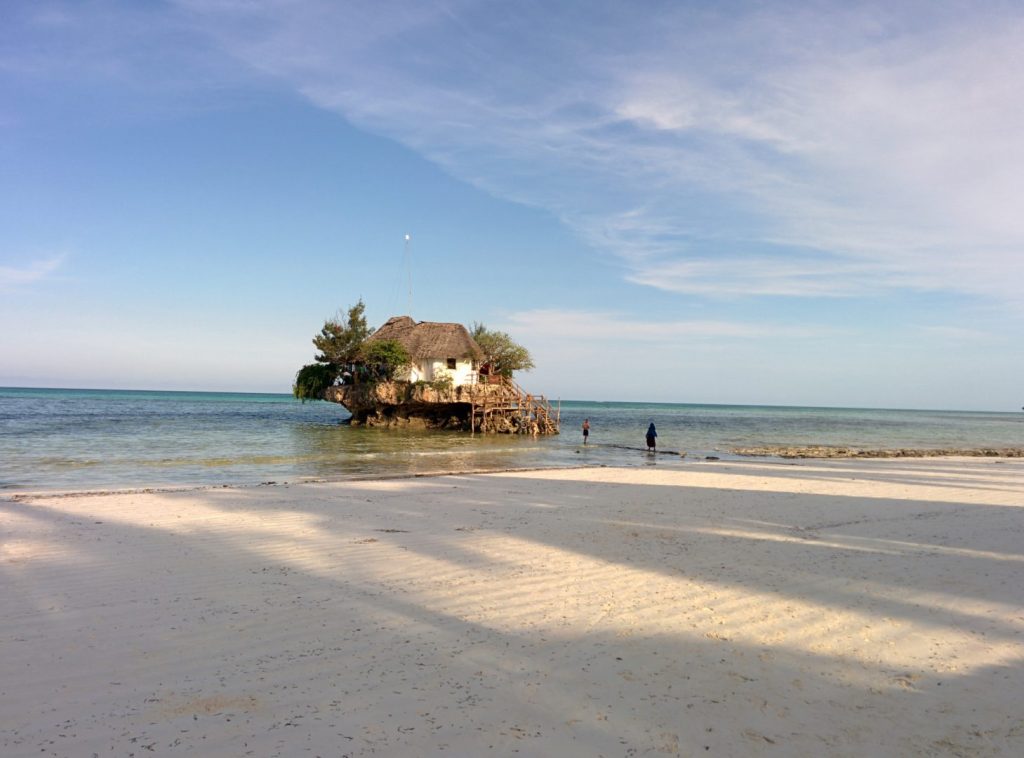 And, as if location, location, location wasn't enough, the food is delectable; I believe it was the first time in my life I've had home-made cinnamon ice cream. You definitely need to go there.
Changuu Island
There are a number of islands strewn just off the coast of Stone Town, and one in particular is worth visiting: Changuu Island. It's just about twenty minutes by boat, around 40,000 TZS (~$20), and looks like something straight out of a travel brochure!
Halfway to the island, mesmerized by beautiful blue water, I asked the boat driver if he would stop the boat so I could jump in for a swim. #YOLO! Blue water and picturesque wooden bridges aside, this island is also known as "Prison Island" because they used to imprison slaves there before shipping them off.
On a less depressing note, there is a colony of Aldabra giant tortoises there which dates back to 1919, when they were apparently sent as a gift by the British Governor of the Seychelles. The sanctuary has quite a number of them, some of which are over 150 years old! Sadly, the species is now considered vulnerable to extinction, so go pay your $4 entrance fee and marvel at this beautiful creature while you still have the chance. Oh crap, that's depressing too.
Miscellaneous Highlights
Here are some of the other memories I have from my visit:
Street food at Forodhani Gardens near Stone Town—try a Zanzibar pizza or a shawarma!
Snorkeling, or rather, riding on a dhow to go snorkeling — hot sun, blue sky, blue water, and the wandering star fish in our boat…
Fascinating history of Stone Town — human greed, which we're doomed to repeat. :(
Where has grilled octopus been all my life?!
Go to Zanzibar!
After my five-day glimpse of Zanzibar, I have to say that I'd recommend it over Kenya's coast for anyone looking for a taste of coastal East Africa. Kenya's coast is equally beautiful, but Tanzania — and therefore Zanzibar — is cheaper, the people are nicer, and it is definitely less dangerous. Even without the threat of extraordinary "terrorism", you're much more likely to get plain ole mugged in Kenya than in Tanzania!
Side note: sometimes I catch myself generalizing about "Kenya" based on experiences I've had living in Nairobi for five years. I know it's not fair (and I usually correct myself), but it is what it is. If you really want to come to Kenya, you should probably just stick to Mombasa and the South coast (like Diani), and avoid Nairobi altogether.