A few hours before my flight back to Nairobi, I looked at my itinerary and realized I was scheduled for a twenty-one-hour layover in Doha. Sad panda. I've spent a few hours there before, but always with a few episodes of some TV show on my phone and a good book. So I decided to book a hotel and get a visa to enter Doha for the day — at least then I could get some sleep, take a shower, and see something new!
Last Minute Hotel Booking
From a shared computer in the hostel in Bangkok I hurriedly found a hotel in Doha which was on the Embassy of Qatar's approved list of hotels and made a booking. It turns out that this isn't as important as I thought, as they don't do any checking or anything; the immigration lady just asked where I was staying and I said the name and it was enough. For reference, I stayed at the Mövenpick Hotel Doha.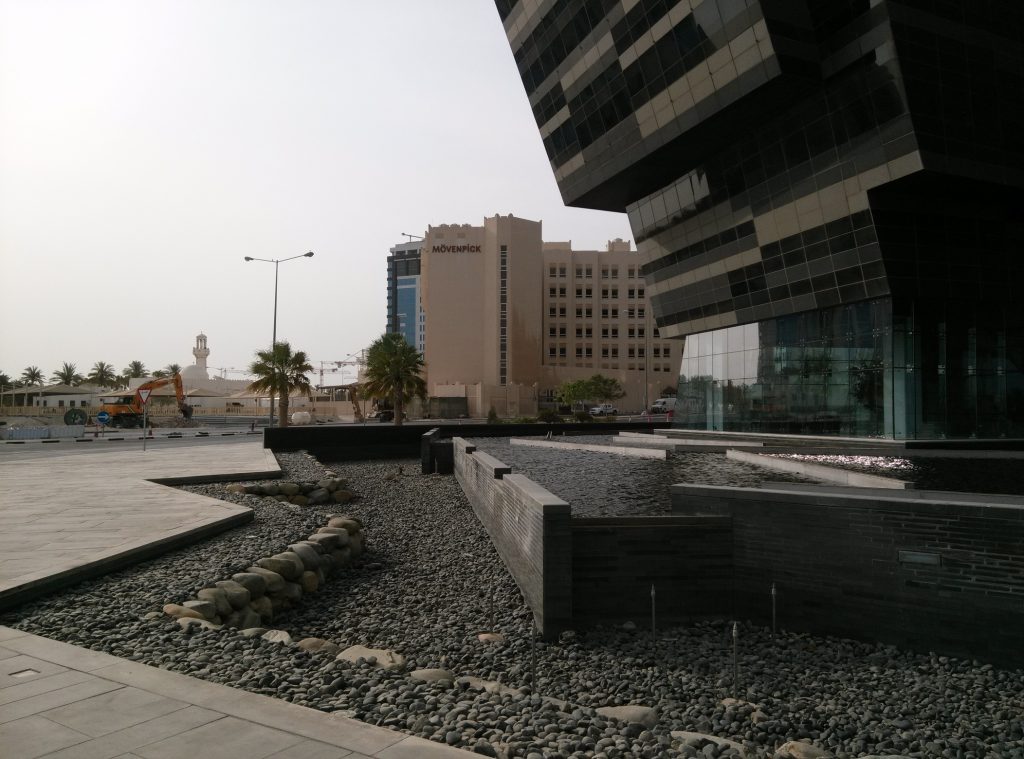 Immigration
Immigration was easy enough, but I have to vent a bit. The few Qataris I interacted with at the immigration area were all quite rude. Furthermore, I found out that visa fees can only be paid with a credit card. As I wasn't sure if my bank would allow the transaction I had been hoping to pay in cash (USD). In the end I had to go to the bank inside the immigration area and convert my cash to Qatari Riyals and load it on a throwaway credit card. For citizens of the USA getting a visa on arrival is no problem, and the fee is just 100 QAR ($28), which includes a few extra riyals service charge for the credit card.
Taxi
The hotel was waiting for me (a relief, as I wasn't sure if my booking went through), but I apparently didn't pay for transport, so I had them arrange a taxi for me. The drive to the hotel was only five minutes or so, and cost me 27 QAR (but considering he started the meter at 25, it's not very far at all). Checking into the hotel was easy, and the staff there were very helpful.
Immigrant Workers
By now I had interacted with seven or so people, including the two Qatari immigration officers:
Hotel Liason was Chinese
Bank guy was Indian
Hotel liaison was Filipino
Taxi guy was Nepalese
Hotel receptionist was Indian
The immigrants were all kinda humble and said please, thank you, and "sir" when they talked to me. The Qataris mumbled and said "excuse me" condescendingly. Grrrr.
The Harbor
Since I arrived at 6 am and promptly had breakfast, I decided to go for a walk to see what Doha was all about. The dhow harbor was beautiful and serene, and Doha's modern city skyscrapers lingered just behind it—a rich juxtaposition of old and new. The Museum of Islamic Art, situated right on the harbor, is beautiful as well, but it was closed for renovations.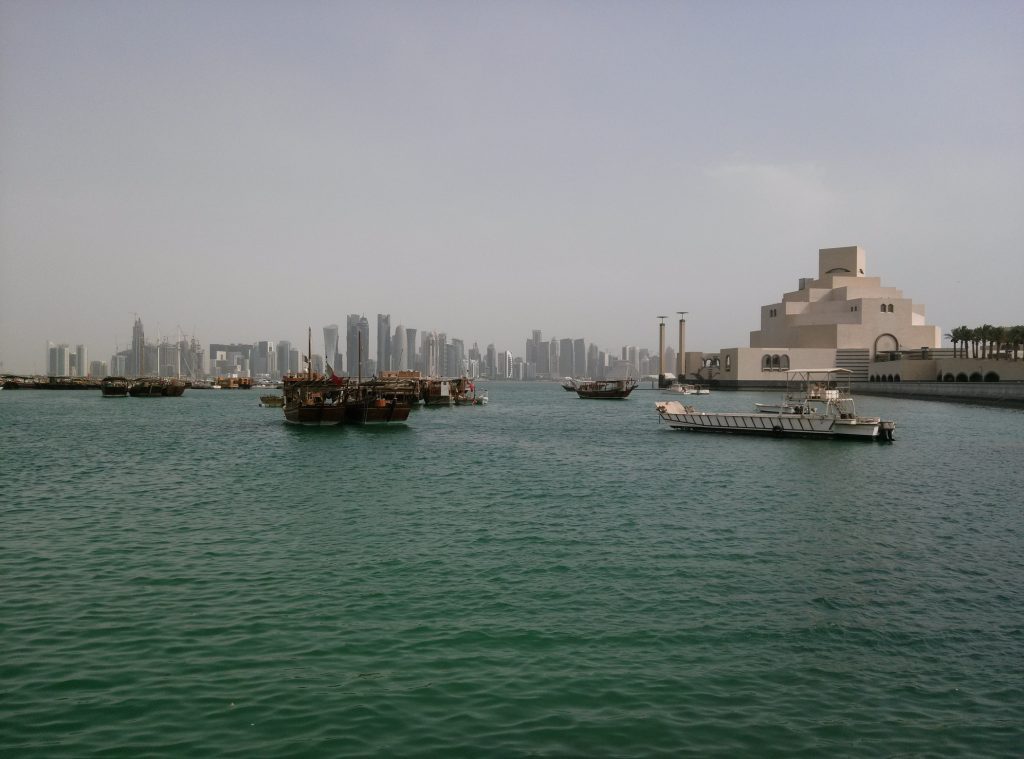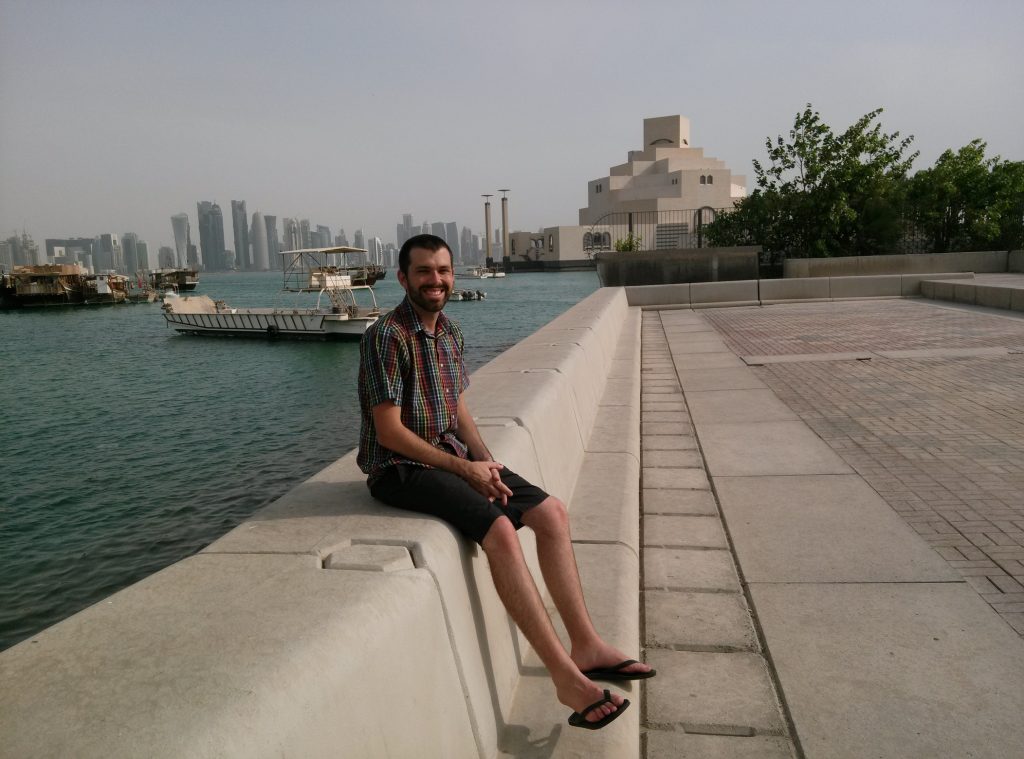 Souq Waqif
Souq Waqif was largely closed when I got there at around 7 pm, but even so the aroma of spices, shisha, and Qatari sweets in the alleyways was amazing.
I stopped at a little restaurant for dinner and it was delicious: basil, tomatoes and grilled halloumi cheese on fresh flat bread.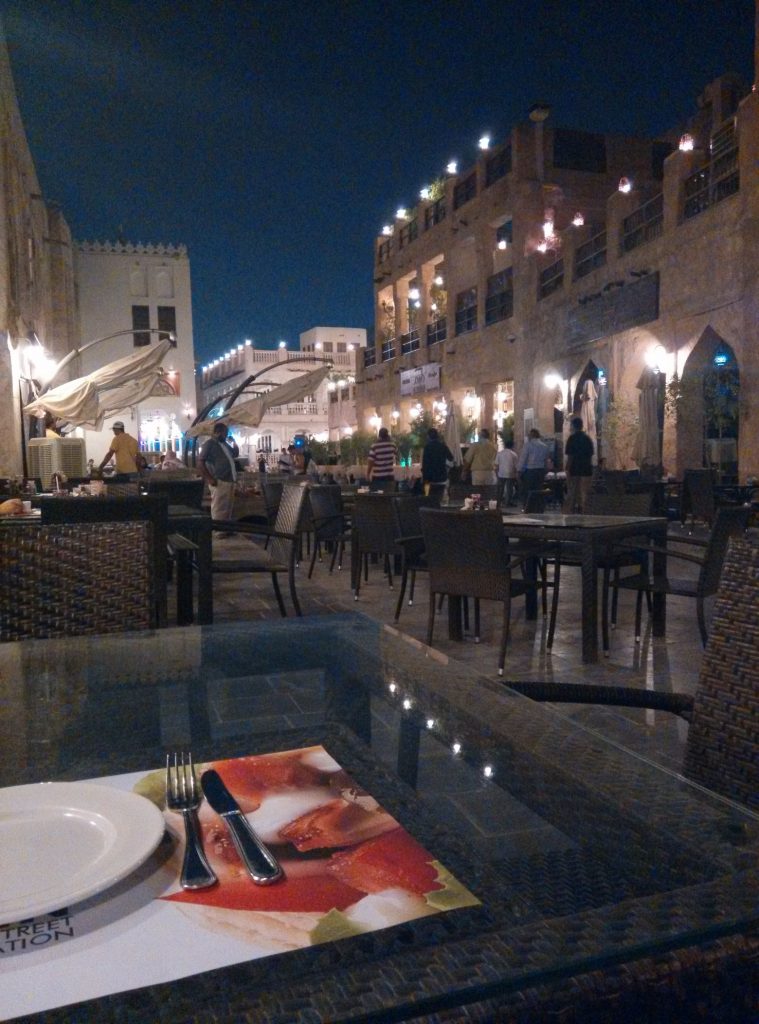 Even so, I still found myself dreaming of lemon grass, coriander and rice noodles in Bangkok. :)