Citizen journalism in action! I was in a matatu (minibus used for public transportation) after work tonight and I found a hell of a commotion at Church Road and Wayaki Way. It's not every day you see cars driving on the wrong side of the road—and the Westlands traffic jam never backs up all the way to Safaricom headquarters. Since I was near my stop anyways, I asked the conductor, "Naeza shuka?" (can I get out), then hopped out in the middle of traffic. Our side of the highway was bumper to bumper, but the other side was clear.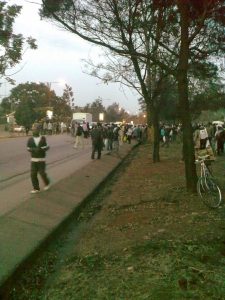 It was just about dusk, so I really couldn't see very far, but I could hear a lot people making noise. As I got closer to Church Road I saw a big group of people. Kenyans like watching car accidents for some reason, and I saw lots of tree branches in the road—a tell-tale sign of a car accident—so I figured it was something like that. I approached the commotion and saw lots of dudes carrying big branches, and hitting matatus which had piled up in the traffic.
Not really knowing what was actually going on, I didn't stay long. Just long enough to snap a few pictures on my stupid Nokia 5800 XpressMusic phone! I asked around to some watchees (security guards in sheng) on the corner of Church Road, asking why those guys were hitting people. "Wanapiga matatu tu!" (they're just hitting matatus). It became clear that the people were angry with careless/wreckless matatu drivers.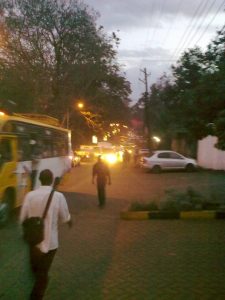 I was proud when I finally got home and relayed the story to my askaris (security guards). They had been at work for half an hour or so and had probably just missed it. I had all the right answers to their questions. "Nimesikia matatu iligonga mama" (I heard a matatu hit some lady), "Sijui kama amekufa, alipelekwa hospitali" (I don't know if she died, she was taken to the hospital). They thought it was so great when I whipped out my phone and showed them the real deal.
hahahaha